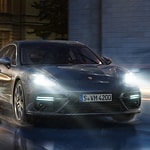 The new Porsche Panamera is back with furious vengeance and for good reasons. This popular luxury sedan appeals to a wide demographics of people, and it comes equipped with purposeful features. Let's dive in for more details below.
Right from the start, you'll notice just how low the car sits to the highway, and its wide body provides good balance. Diversity is the key to success. Consumers can choose from at least 15 different wheel types, and there are various interior colors to choose from. Two-tone colors are also offered for the interior. The new Porsche Panamera is worth its weight in gold as it allows for better customization than its competitors. In addition to that, this luxury sedan comes equipped with advanced technologies. Porsche Connect innovations are heavily used for the technologies to provide a more streamlined performance.
We urge all interested enthusiasts to swing by our showroom for further details.